The home design industry is raring to go. After a long pause due to the pandemic, people are hungry for fresh ideas and industry change. At a recent online event, the Heimtextil Trend Council presented its 2022-23 trend predictions for home textiles. The forecast offers a taste of what will be exhibited in January 2022 at the Heimtextil trade fair in Frankfurt, Germany.
The pandemic has highlighted the importance of a comfortable and beautifully decorated home. Textiles play a part, but sustainability is also important. One thing is clear: More of the same is not an option.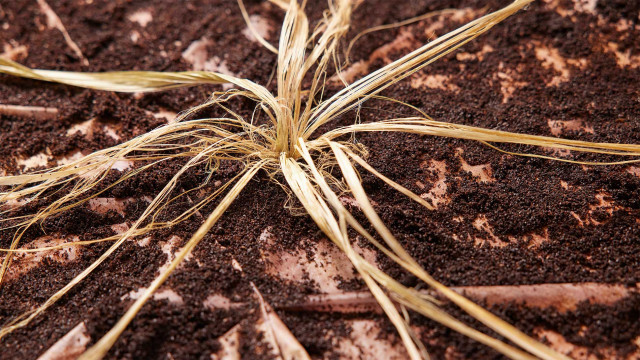 Hemp fiber could be a material for the future. Used in antiquity, hemp is easy to cultivate and maintain, grows quickly, is resistant to pests, uses far less water than cotton and produces more biomass than most other cultivated species. All photos by SPOTT for Heimtextil.
The First Steps Are Not Enough
"Sustainability is no longer a choice or a desirable add-on, it's an absolute imperative," says Caroline Till of London studio Franklin Till. "The detrimental impact that we're making on the planet is abundantly clear. So, for individuals, brands and manufacturers alike, having a clear approach to sustainability is of paramount importance."
And mass production? "We are in a period of transformation," says Anja Bisgaard Gaede of Spott Trends & Business from Denmark. Bisgaard Gaede, along with Franklin Till and the Stiljinstitut Amsterdam, represented by Anne Marie Commandeur, was part of the trend council that researched and presented the new trends for Heimtextil.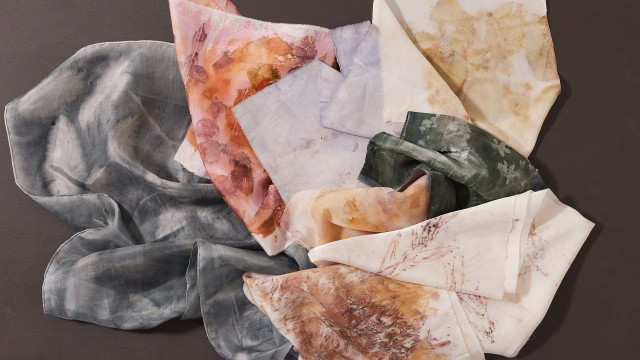 Textile design without chemicals is possible, thanks to natural dyes, sustainable printing, sun printing and digital printing as in this example from VIA University College in Denmark.
"We do still have large-scale production, which we need to change to a more sustainable path. We are looking into serving you … the continued push to do so and the continued inspiration for how to do so," Bisgaard Gaede says.
"This generation of emerging designers is inviting us to challenge the mainstream discourse surrounding the climate emergency," Till says. "They're offering innovative, impactful ideas that align with their strong sense of environmental and social values."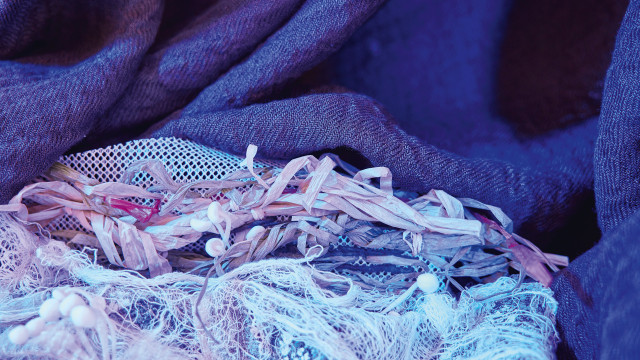 Sustainable textiles do not need to come in earthy colors. Pictured is fabric made out of patterned offcuts and raffia palm ribbon by Christina Engsig.
Radical Thinking
The trend council makes it clear that for a product to be sustainable, it is no longer sufficient to just stick an eco label on it. "We need to think radically differently about production today," says Bisgaard Gaede. "The future of home textiles is really understanding nature's intelligent system. … In order to not create imbalances, we need to learn how nature actually balances itself."
Till presents two possible approaches: "to either retain naturally derived materials within the biological cycle and let them degrade, or utilize only synthetic materials that can be retained wholly in the technical cycle, within infinite loops."
"The future of objects should simply not create waste or imbalance," as the trend council's video statement put it.
Biodegradable textiles out of mycelium, animal innards or agricultural waste, or bacteria that dye textiles naturally, are some examples raised in the presentation. An emphasis on traditional craftsmanship can also fuel a sustainable shift.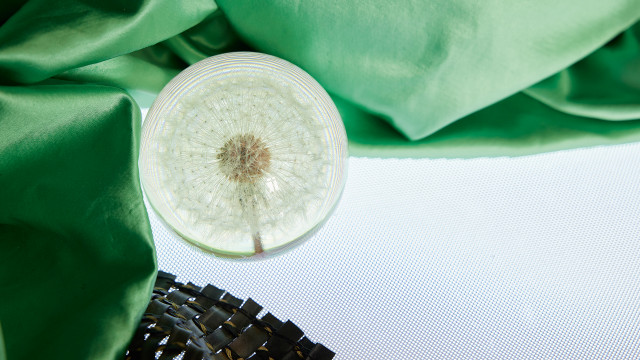 The cloth of the future is responsive. This means it can react and adapt to the environment and the body. Or materials can come into contact with the natural world virtually, through augmented reality. Pictured is reflective textile design from VIA University College.
"In the Western world our disconnection from nature has brought us to this state of ecological imbalance," Till says. "But we can look to technology to provide a lens to help deepen and strengthen our connection to the natural world."
Till sees the future in innovative production processes as well as in digital economic goods: products that are not physically present, and which we experience virtually through augmented reality. "People are actually willing to engage and spend large amounts of money — whether it be design pieces for the home or indeed fashion items — that house a virtual space or dress a digital avatar," she says. "This is … exploring a future in which we … look to fulfill our sense of creativity and our desire to consume within the virtual realm."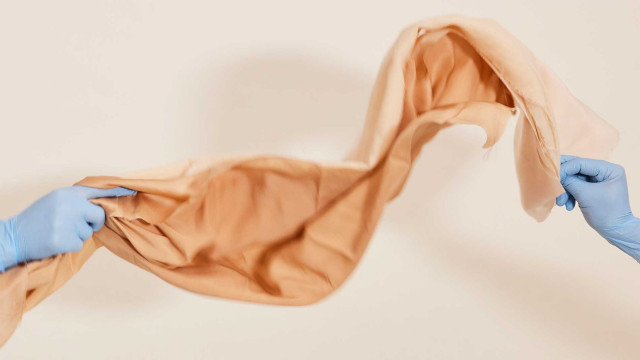 The material in this photo was dyed with onion skins and avocado pits. There is ongoing research into the viability of these methods for mass production.

New Materials for a World Worth Living In
The four trend themes — Deep Nature, Hyper Nature, Beyond Identity and Empowered Identity — are united by one basic thought: They show how the industry can use resources more responsibly in future.
How will this lead to the fabrics of the future, and what might these look like? Here is an overview of the most important colors, materials and technologies for the coming season, put together by the Heimtextil Trend Council.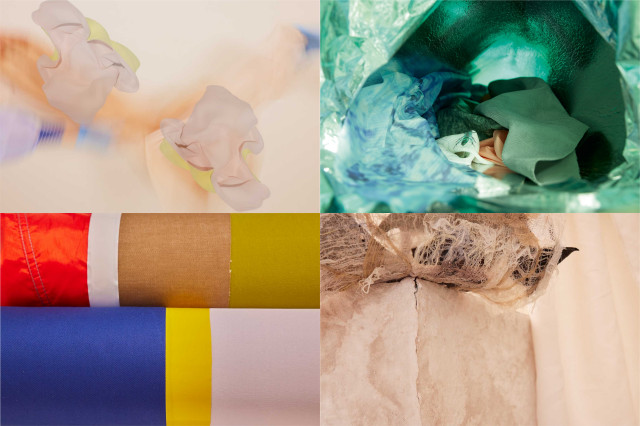 The new world of color, clockwise from top left:
Powerful pastel tones like pistachio, peach and dusty sky blue, mixed softly with neutral tones like gray or light khaki. Bright yellow and orange provide accents.
A lively and hyper-natural palette of unusual greens all the way to intense purple. This includes clear, bright shades as well as diffused green and gray tones. Salmon and raspberry serve as accents.
Essential and organic colors: marshy, botanical tones, dye-free shades like sandy beige or brown. Natural dyes create delicate and dusty blue shades and soft reds.
Traditional primary colors (yellow, red, blue) are expanded with shades of coral, kiwi green and dusty lilac.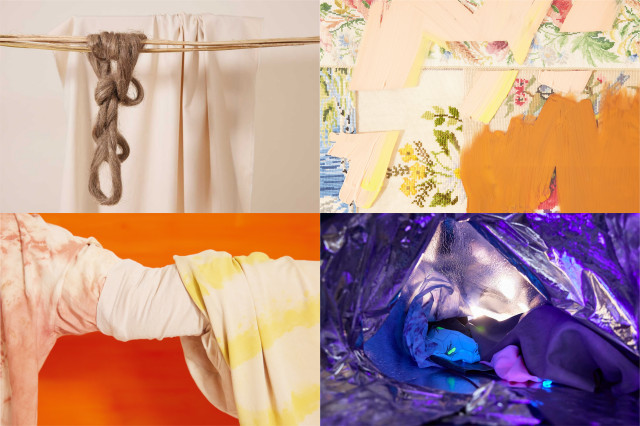 The new materials, clockwise from top left:
Natural materials and colors that can be obtained, worked and reused in circular processes, like jute, flax, hemp, linen, plant skins, palm leather, coconut fiber, mycelium.
Traditional technologies like tufting, cross-stitch, weaving — or experimental stitching methods. Handicrafts like handwoven tapestries or modern takes on traditional patterns from around the world. Traditional Scandinavian textiles like Fanø scarves, Hestedaekken textiles, ikat kitchen towels or klokkestrenge patterns (pictured), perhaps updated by prints or paint. Traditional wool weaves with repurposed materials. Recycled synthetic fabric.
Responsive materials, recycled synthetics, technical fibers with natural textures, smart textiles, microscopic structures, use of digital sustainable textiles.
Hand-woven recycled polyester, printed digitally or with the use of light technology, which is then easy to recycle again. Using bacteria or natural plant pigments for dying. Pigments that change through use. Puff textiles out of microfibrillated cellulose. Traditional silks.
Source: https://www.houzz.com/magazine/textiles-of-the-future-will-be-colorful-and-biodegradable-stsetivw-vs~153307287